HCBC Mission Statement
"To Build and Empower Disciples to live together in Unity to make a difference in the World of Jesus Christ."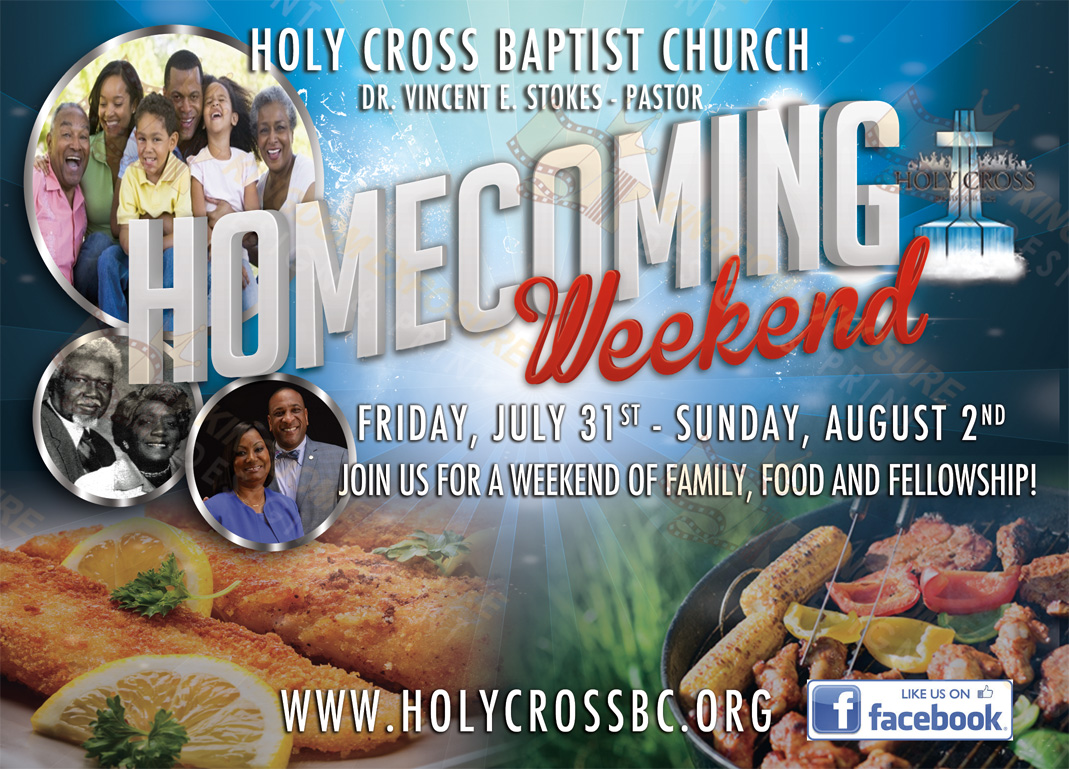 Homecoming Weekend Agenda
– Friday, July 31, 2015 – Fish Fry in the Lawn Holy Cross Baptist Church Annex 1903 Wynnewood Road, Philadelphia, Pa. 19151
– Saturday, August 1, 2015

– Picnic at Papas Playground Areas 1 & 2 12:00 noon – 6:00 p.m. 68th and Haverford Ave. Philadelphia, Pa 19151
– Sunday, August 2, 2015

–

Sunday

Worship Services at

9:45 a.m. 

Holy Cross Baptist Church 1900-04 N. 63rd Street Philadelphia, Pa 19151
ANNOUNCEMENTS
– Thursday, July 9, 2015, 6:30 p.m., the 65th Anniversary Primary Ministry (ministry leaders excluded) will meet.
-Monday, July 13, 2015 thru Friday, July 31, 2015, 5:45 p.m. to 8:30 p.m., Picture Perfect will be in session, helping girls ages 10 to 18 years of age build their self-confidence. Ashley Thomas is the ministry leader. Please see the flyer in the Sunday bulletin.
– The Joseph & Clara Beatty Scholarship Ministry is accepting report cards and achievement notices for the 2015 award season. Please submit copies to the church office, along with a student participation form signed by the ministry leader by June 30. The scholarship banquet will be held Saturday, July 18th at 3:00 p.m.
– Tee shirts for the 65th Anniversary Homecoming Weekend will be on sale in the nurses' room immediately after service.